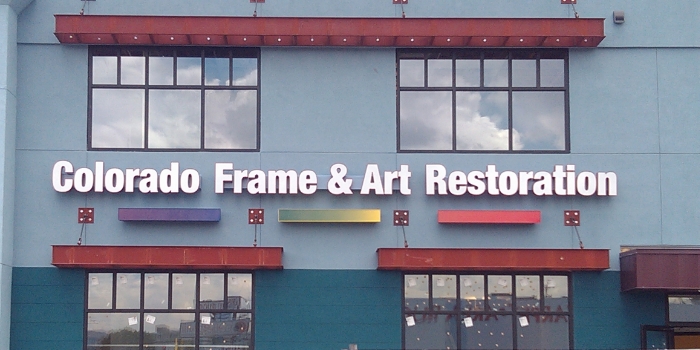 Colorado Frame & Art Restoration services has been in business since 1975 serving the Denver Metro Area. Colorado Art & Restoration started with simple framing and now performs a variety of services from restoring works on canvas, works on paper, and restoration of oil and water color paintings. New Location
Colorado Frame & Art Restoration has grown a lot since 1975. After 40 years in business in Lakewood Colorado, Colorado Frame & Art Restoration has moved across the street to a new state of the art facility. You can find them 9780 West Colfax Avenue, Lakewood, CO 80215.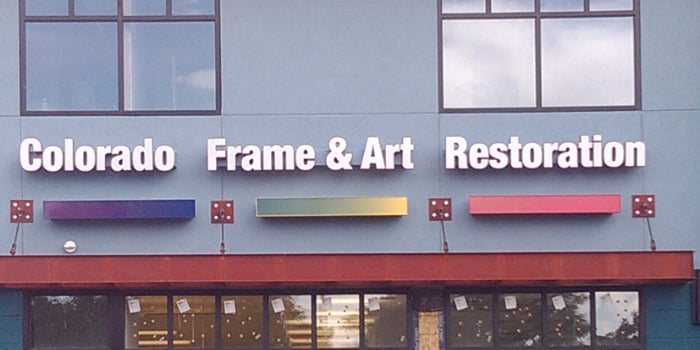 The Signs - Front Lit Channel Letters
On this project, Signdealz worked with the owner to build a sign package that took advantage of the significant amount of building frontage available. Colfax Ave is one of Denver/Metro's busiest streets with thousands of cars passing by every day. This is a big opportunity to turn a lot of those potential drivers into future customers.
The white faces of this set of front lit channel letters offers great contrast from the building. The rainbow gradient bars also provide the branded accents that were important to our customer. These channel letters are mounted using standard raceways which enclose the wiring and transformers inside and away from moisture. Raceway mounted channel letters are a more cost effective way to attach the sign to the wall without making numerous penetrations through the building structure. If you were using flush mount channel letters there would literally be a hundred or more penetrations into the building structure.
Signdealz can help you determine what is the best channel letter sign for your business. Feel free to call us at 800-405-0686.