Ever get the craving for some real Memphis-style hot wings? You've got to try South Mouth! Located at the corner of Broadway and Araphahoe in Boulder, Colorado, South Mouth Hot Wings is a small wing joint with BIG taste! Co-owners Larry Thompson, Jonas Gibbs, Tim Harmon, and Justin Walker recently relocated from Memphis, Tennessee to Boulder. They're striving to expand the local late-night food scene by offering more than the usual pizza or sandwich shop. Open until 3 A.M. and centrally located, South Mouth a great place to go after a night on Pearl Street.
Give Your Mouth A Taste Of The South! South Mouth Hot Wings in Boulder, Colorado
The menu is relatively simple: You have the choice of Memphis style or Party wings. Combine that with your choice of ten tasty sauces - including wet sauces and dry rubs, ranging from sweet to mouth-watering hot! They also offer a variety of sides: Pickles, corn on the cob, macaroni and cheese, mushrooms, jalapenos and okra... all deep fried. Just like you would find in Memphis!
South Mouth is located at 1650 Broadway, and they're open from 10:30am-3am, 7 days a week. Eat in, or have it delivered!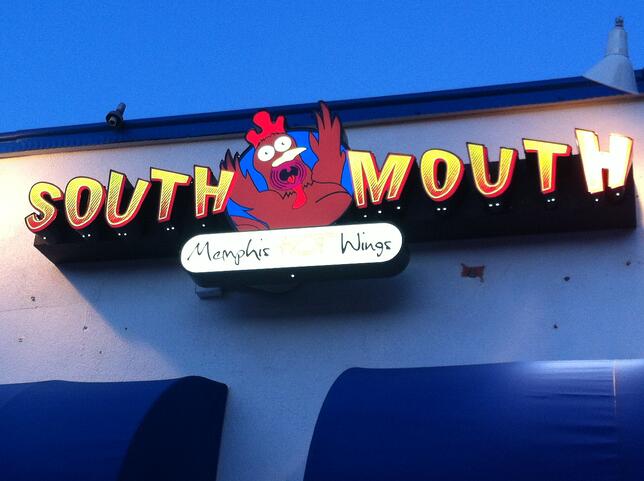 South Mouth came to Signdealz.com in need of an electrical sign. They wanted something that would be clearly visible to the late-night crowd heading home from Pearl Street. It also had to clearly represent the business during the day. Signdealz.com designed them a LED Channel Letter package that did just that! Illuminated from within by sign-grade LEDs (Light Emitting Diodes), LED Channel Letters are not only shine bright, but cost less to operate, and don't require any changing of bulbs or neon.
Signdealz.com Channel Letters feature weather-proof aluminum construction, with sign-grade plastics and UL-listed electrical components. All of this comes together to create a quality, unique sign, every time! With Signdealz.com, you're not only getting a great sign. You're also getting a great deal. The BEST deal. Why? Signdealz.com creates mutually-beneficial relationships with our vendors: we sell a lot of signs, and they give us a better deal! We pass those savings on to you, the customer. Everybody wins! That's why when you choose Signdealz.com, you're getting a great deal on a great sign, every time!
We can turn your vision into a reality with our talented network of sign professionals:
Conceptual Design is where it all starts. We work with your idea, your budget, and local sign codes to create a design that is unique and eye-catching.
Custom Fabrication is the key element of sign production. Turning a design into a working piece of 'advertising art' takes years of experience and a real understanding of the industry. Our fabricators are some of the best in the state. Quality construction is what we're known for!

Licenced Installation ensures you sign is up-to-code and safe for the public. Even if it were legal for you to install it yourself, trust us: you wouldn't want to! Sign installation requires knowledge of electrical systems, building construction, safety codes, and so much more... leave it to the experts.
We specialize in lighted and non-illuminated signs of all kinds, from Channel Letters and LED Displays to Monument Signs and Blade Signs! We also specialize in interior LED lighting! Are you starting a business in the Denver/Boulder area? Are you looking to take your established business image to the next level? Give Signdealz.com a call today, or fill out our web form!
800-405-0686