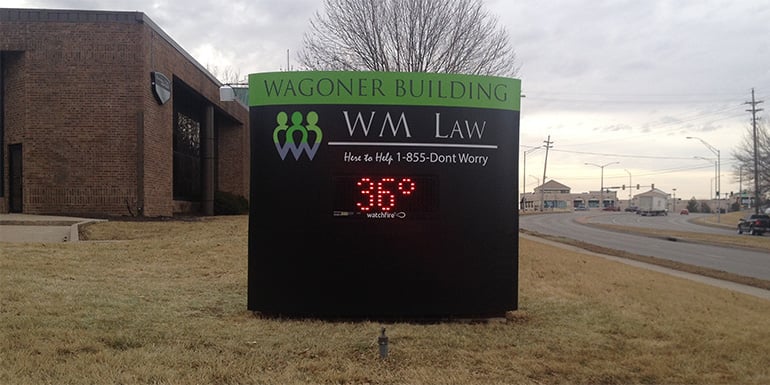 WM Law in Kansas City wanted a sign that would grab passers' by attention. Using the existing logo color scheme as well as an existing brick monument foundation to base the initial structure design off of we designed a custom curved monument sign structure. WM Law specifically wanted a time and temperature display to grab attention of passing traffic.
Time and Temperature Monument Signs are Effective
We incorporated an LED monochrome red display on both faces that displays the time and temperature. One additional request that was made was to make sure that this would be model for future tenant use if desired to have their company name on this monument.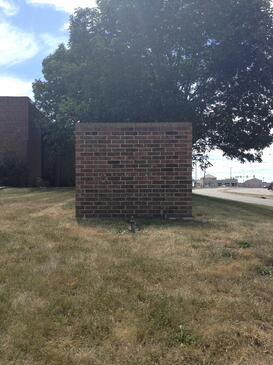 WM LAW is a two-story office building and their offices are located on the second floor. Originally there were talks of future additional tenants on the first floor. However, shortly after design finishes Kansas City Automotive Museum decided to take the entire first floor of the building. At this time KCAM has two wall signs, one on the North and an illuminated cabinet on the West elevation. They deemed not to use any space on the monument. However, the monument structure was designed to be modular. There are three horizontal aluminum panels below the LED display that are removable for future signage purposes including internal LED lighting.
Custom Designs
Custom designs are our specialty. I personally am a creative type, and enjoy projects such as this where a customer understands the power of signage. Many may wonder why I did not just go with a square or rectangular shape, slide some acrylic panels into the faces, and slap some vinyl graphics onto the faces. That would be too easy. I tend to think outside the box, I enjoy pushing the envelope and creating a sign that is unique.
If your looking for a great place to get Kansas City Signs, then you have come to the right place. We have the ability to do any kind of on premise advertising.