Signdealz.com was recently tasked with re-vamping the old (and outdated) Roxy Theater marquee sign. The Roxy Theatre was the first African American segregated theater in Denver and was built in the 1920's. It's an important landmark for those living in the 5 Points area and over the years had become a serious sign of blight on Welton St. Owned by cousins Investments, Pati Cantrell contacted Signdealz hoping to find a sign company that was up to the task of restoring the theater on a budget. Signdealz has restored over 5 historical marquee signs in the Denver/Boulder area, and had the specific knowledge required to get the theater back to it's former glory.
Signdealz Finished Restoring the Roxy Theatre on 2525 Welton in Denver
The Roxy was no pretty lady!
Since the 1920's, the sign has been through about 4 seperate upgrades. I like to call them downgrades based on what had been done. The original neon tubing had been pulled out, and replaced with florecent tubing in the 1960's. When that system of back lighting went out, the old system of lighting was replaced with residental fixtures. The original acrylic panels used to hold the lettering was also long gone and had been replaced with complete sheets of acrylic. The theatre had been painted about 20 times, which ended up being a g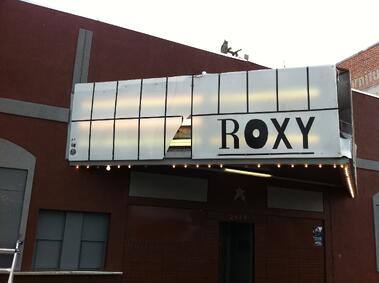 ood thing, otherwise it might have re-used to the ground.
The old marquee portion needed to be completely replaced, and possibly back-lit with new illumination. For this sign to be efficient again, we were going to need to get our hands dirty!
We started with the marquee faces. We had to start from scratch and come up with a completely new design that would work. Originally, a marquee like this would use Snap Lock letters held in place We constructed an aluminum bracket system and separate marquee panels to slide into the brackets. We then installed white LED modules within the sign to back-light the panels. Before we could install the new faces, we needed to give the body of the sign a revamp. This began with refurbishing the existing light sockets - which was much harder than it sounds! After some surface repair and a new coat of black paint, the sign was ready for new faces!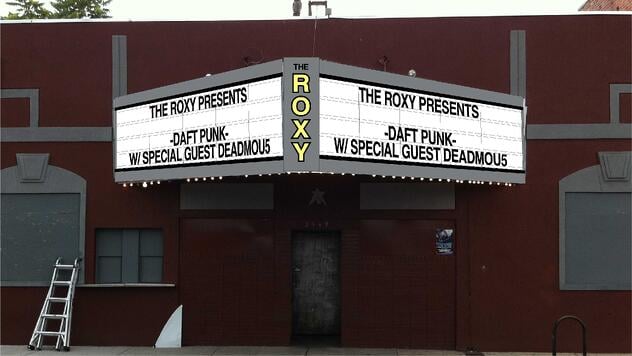 Finally, some new bulbs and routed-acrylic letters gave the sign a finished appearance. When the job was done, the difference in appearance was phenomenal!