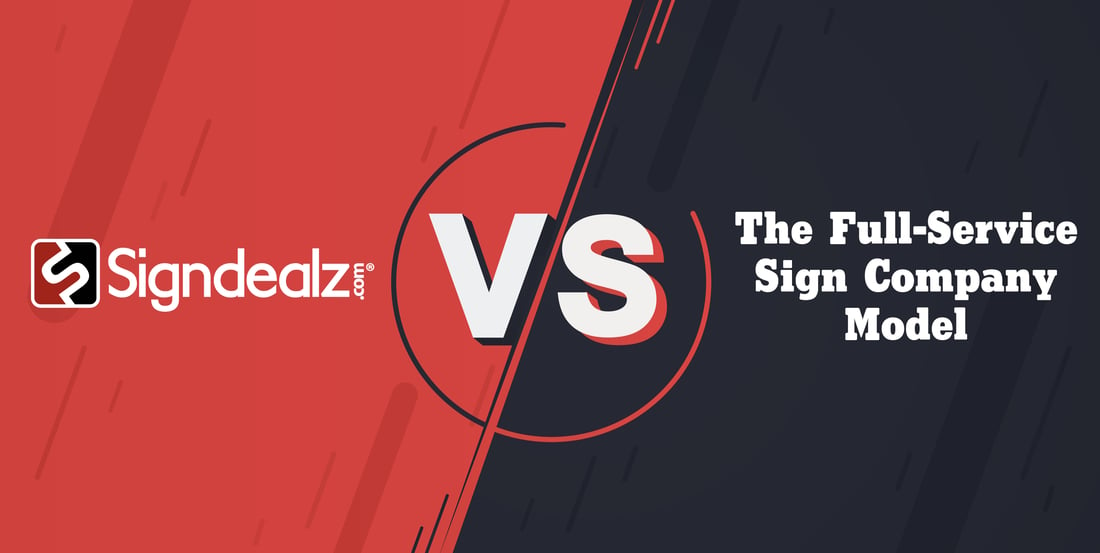 Starting a company will be the most significant challenge you will ever undertake. If you are looking to start a business in Colorado and Wyoming, you might be wondering who is going to provide a better sign at a better price and why. Here is our comparison between Signdealz and the Full Service Sign Company Model.
We want to start by saying any company we mention in this article is a great family-owned business. We get asked about our competitors all the time, and we never criticize our competitors. They are owned by hard-working folks who put their life's blood into their business. We are writing this article to illustrate the differences between the Signdealz business model and that of our competitors.
We believe the traditional sign company model is completely broken. It's too expensive to stay profitable, also delivers too few options for the customer. We believe the decentralized model Signdealz uses to serve it's customers is faster, scalable, and provides the benefits customers need when starting a new business or expanding a successful business.
Small Scale Custom Manufacturing Vs. Wholesale Large Scale Manufacturing
Small Scale Custom manufacturing is an expensive endeavor. It requires significant human capital, expensive equipment, maintenance, software, and constant investment to produce a product. Small scale custom manufacturers cannot rely on scaling transactions to achieve profitability; they must inject the costs of investments directly into the product they sell. If you produce fewer products at a higher cost structure, the cost of those products will be higher compared to a high volume manufacturer.
Wholesale large scale manufacturers of custom products do not have all of the overhead of custom sign manufacturers. They don't have marketing and sales expenses, insurance for installers, maintenance for crane trucks, etc. They can concentrate on the quality of the product and bringing efficiency to their operation. Their larger scale also gives them the ability to purchase raw goods like aluminum and acrylic at a discount over other smaller manufacturers.
Signdealz uses a network of large wholesale manufacturers.
Leveraging a Network vs. Keeping Everything Under One Roof
Signdealz offers an innovative business model built on providing a competitive price and service from a network of independent custom large scale wholesale providers who bid on your project. This approach offers a high-quality sign at the lowest possible price through competition and markets. Signdealz ensures our prices are lower due to our lower overhead. No facility rent, maintenance, energy costs, equipment upgrades, and the list goes on and on. Here is what we invest in:
Amazing Employees

Expert Project Management

Superior Technology Solutions to Support Projects

Supporting the products we sell

Investing in the communities, we serve
The Full Service Sign Company Model has an emphasis on doing everything from electric signs to banners . They own and operate their fabrication facility and crane trucks.. They employ designers, fabricators, installers, project managers, and production/installation managers to complete your project. The full-service model of fabrication and installation can deliver a high-quality sign, and they do great work. Still, it's challenging to offer a competitive price based on the overhead required to operate at lower volumes.
Focus On Customer Service
The Full Service Model has to focus on multiple things before they even get to your needs as a customer. These include:
Staffing and Recruitment

Marketing and Advertising

I

nstallation Management

Sales

Training

Estimating

Maintenance

Inventory Management

Technology Upgrades

Crane Certification

Equipment Purchases

OSHA Regulations

Sign Fabrication

Project Management

UL Certification Inspections

Service Schedules

Warranty Repair
Signdealz streamlined model uses technology and our network of integrated partners to focus on what's important to you. Our network partners focus on their piece of the pie, leaving us to focus on you! We reward amazing vendor performance with more work and financial security. Signdealz goal is to remove those obstacles that get in our way of providing world-class service at a lower price. You can see how our required tasks to manage significantly less than the Full Service Sign Company Model. These include:
Software Development

Project Management

Vendor Management

Sales

Staffing and Recruitment

Marketing and Sales

Customer Service
One of the added benefits to the Signdealz process simplification is a massive reduction in errors. We have integrated checks at each critical point in the production of your sign to ensure its accurately produced. We provide complete photos of your signs before it gets installed. You have to be fully satisfied with the end product before it leaves one of our fabrication plants.
Capabilities determine what value you can provide
.
Sign Companies using the Full Service Sign Company Model use its in-house fabrication and installation resources. This may include some outsourcing depending upon the current capacity of their shop or if they need a specialty skill like water jet cutting, masonry, or electrical subcontractors. When a shop has its resources, its primary focus will be on leveraging those resources first and using subcontractors second. The can have a great team but may need to reach out to subcontractors to fill in the gaps as needed. Unfortunately, keeping qualified employees at sign companies can be an expensive and difficult challenge. Losing team members can impact a project's success or failure. For projects that are out of the state or out of the local territory, Local sign companies may have trouble keeping costs in line. Sending crews long distances can be expensive, and if they are hiring other sign companies to subcontract the work, this can drive up the cost significantly.
Signdealz uses a broad network of vendors who specialize in specific areas of expertise. Signdealz does not have in house resources, so our focus is on finding the most efficient and qualified support first. Our focus is building the best teams for each discipline, qualifying them, and deploying them based on the type of project were are executing. Our teams own and operate their equipment. These teams are not Sign Companies, but owner-operators who we hire to complete complex tasks like installation, fabrication, masonry, and electrical services. Many of our teams have years of experience and perform hundreds of installs for us each year in a given area. We know there weaknesses and strengths. If one of our teams breaks down or has an issue, we have the flexibility to deploy another available team.
Warranty, how do they stack up on your sign?
Local sign companies generally offer a one year warranty for labor and parts. One year of warranty is is the industry average for sign companies in Colorado. This information comes from viewing quotes provided by customers during the sales process.
Signdealz is the industry leader in support after the sale. Often with a warranty five times a long as the average competitor. Our warranty covers parts and labor for 5 years.
Things to consider when choosing your sign company
It undeniable, both Signdealz and Full Service Sign Companies are both great business models. Here are some things to consider:
If you are the type of client who likes to walk into the shop and touch and feel your project, then Full Service Sign Companies may be the right choice. Your sign will be manufactured at one of Signdealz many partner facilities, and they may not be close to your location.

If you're looking to keep your work close to home, then going with your local sign company may be the right choice for you. You might want to look up your own local sign company in Colorado by going to the Colorado Sign Association website.

If you're looking to expand your business across the country, then Signdealz can help you with our network of manufacturing and installation vendors.

If you're looking for the best price, our model is going to be hard to beat. We may not always be the lowest, and there are tiny shops that can beat us on price, but they will not be able to provide a high level of customer service you expect. Our project management team is one of the best in the business.
Before you make your decision on which sign company is the right fit for you, read this article on Effective Business Signage. It's a great article for new business owners. It will help show you how signs are not just objects that represent your business, but the best and most effective form of advertising.