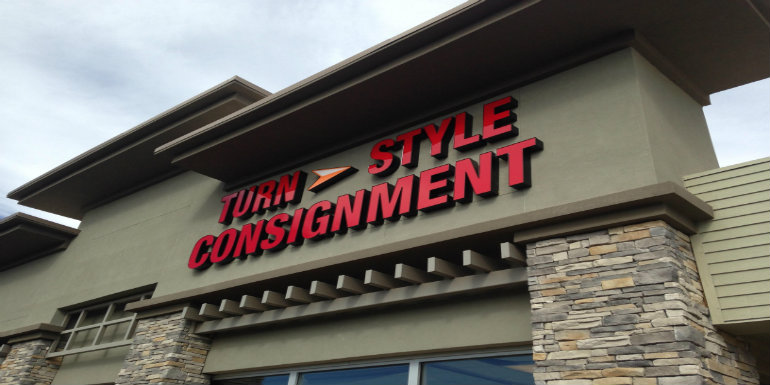 Turnstyle Consignment in Littleton, Colorado thinks you shouldn't have to spend a bunch of money to dress well. Their consignment process focuses on bringing in high end and fashionable pieces for a fraction of the original cost. It's easy to keep your home looking up to date with purchases from Turnstyle Consignment.
Their consigning process is simple and quick, and they even offer pick up services for large pieces of furniture. Bring in your slightly used clothing, jewelry, and furniture and make money on it. There are two Turnstyle stores in Colorado located in Marston Park Plaza and Southbridge Plaza in Littleton.
Consignment Shop Gets Upgrade in Littleton, CO.
Our team at Signdealz, experts in installing channel letter signs in Littleton, Colorado, was thrilled to design and install a channel letter sign for Turnstyle Consignment. A channel letter sign is a versatile sign style that can be customized to fit your business' unique needs. The sign is three dimensional and stands out from the building for a bold look. Each letter is painted to match the business' established branding and LED or neon lighting can be installed if you select an illuminated sign. Because a channel letter sign is completely customization you can choose the sign's size, style, and installation location based on what is best for your business. Channel letters are the number one sign type purchased by businesses across the country and are an affordable way to advertise your business to bring in more customers.
Contact us if you would like more information about Signdealz and installing a channel letter sign in Littleton, Colorado. You can learn more about the types of signs we install and the projects we have completed.