Aurora, Colorado is home to many great ethnic restaurants. New to the line-up is Kirk's Soul Kitchen! If you've never had a taste of authentic southern soul food, you don't know what you're missing. Kirk's Soul Kitchen offers a variety of dishes, including fried chicken, meat loaf, sweet potato pie, cheesy mac & cheese, and so much more. All their recipes are strait from the south!
Captin Kirk's Soul Kitchen Opens In Aurora Colorado
Not only is the food delicious, but it's served up fast! Kirk's is a quick-service restaurant, meaning you won't be waiting for a table like in a typical sit-down environment. Kirk's Soul Kitchen combines the best of both worlds: home-cooked and fast!
Owner Jay Berry built his business on a foundation of love and respect for his late step-father, 'Captain Kirk'. After a terrible car accident, Kirk found himself paralyzed. Despite the hardships and complications of his condition, Kirk maintained a positive attitude, and taught Jay the importance of working hard to achieve his goals. He said, "Stay focused, because you can do anything you put your mind to". Jay now runs a successful business, respectfully named after his mentor. The restaurant's motto reflects not only Jay's love for Kirk, but his love for cooking:"Cooking is like love! Love with your soul, cook with your soul."
Just take a look at their entrees:
SOUTHERN FRIED CATFISH
JAY'S INFAMOUS HOT WINGS
CRISPY FRIED CHICKEN
SMOTHERED CHICKEN
SMOTHERED PORK CHOPS WITH HOMEMADE GRAVY
TASTYPORK SAUSAGE
SAVORY MEATLOAF
Kirk's Soul Kitchen is open Monday through Saturday, 11 a.m. to 7:30 p.m.; Sunday, 11 a.m. to 5:30 p.m. Located at 14107 E. Colfax Ave. Aurora, CO 80011. Give them a call at 720-474-1996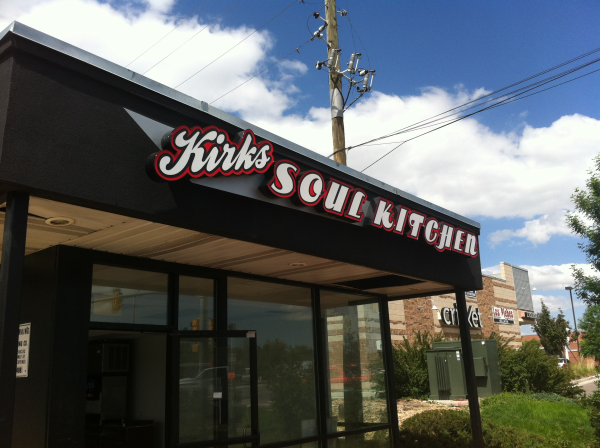 Jay came to Signdealz.com in need of an lighted sign. We used his pre-existing logo to produce a set of eye-catching LED channel letters! Channel Letters are one of our more popular types of lighted signs. Illuminated by LEDs (Light Emitting Diodes), LED Channel Letters require little to no maintenance, and use less energy than standard lighting. Even if your business only operates during day-time hours, it's important to have a pressence at night. Remember: your sign is the face of your business! It's one of the main elements that connects you to your customers. You want it to represent your business, whenever possible, clearly and concisely.
Signdealz.com specializes in all types of electrical and digital signage, including LED Displays, LED Channel Letters, Kiosks, Cabinet Signs, and much more! We can handle every aspect of sign production:
Design
Our talented designers can take your concept and make it a reality! Your sign is the face of your business: you want it to convey a sense of professionalism and class, while grabbing the attention of your potential customers.
Our signs are constructed of high quality aluminum, sign-grade plastics, and UL-listed electrical components - ensuring they'll last for years to come. When you use Signdealz.com, you're getting some of the best products on the market.
Installation
We use licensed professionals with years of experience. Quality installation of your sign guarantees it won't be falling off the wall, possibly causing injury to a person or damage to property. Installation of a sign requires knowledge of structural design, electrical systems, and local sign codes.
Trust the experts!
When you choose Signdealz.com, you're getting quality products and great service - at a competitive price.
Signdealz.com is a network of sign professionals, ranging from brokers and dealers to designers and manufacturers. We connect these resources to produce quality signs at great prices! Whether you're the owner of a small business or a nation-wide franchise, you can't go wrong with Signdealz.com!