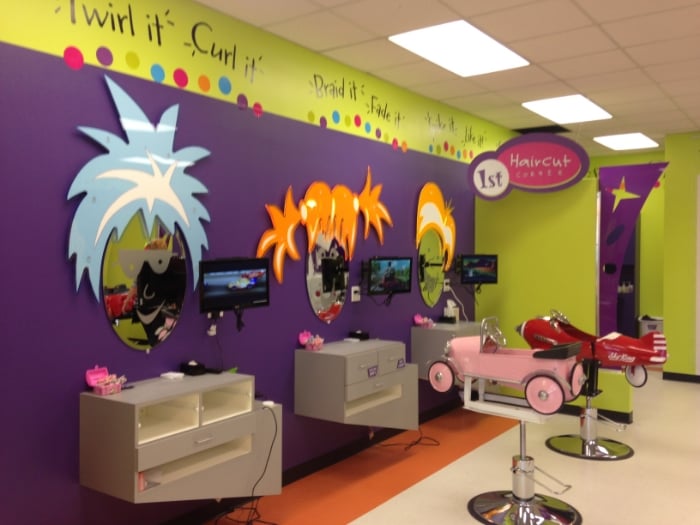 Located in Albuquerque, NM another Shear Madness Haircuts for Kids Salon opportunity. The Shear Madness Franchise is wacky, colorful, and very kid friendly.
Great Signs Are Everywhere!
They also don't stop with the exterior signage they actually make signage prominent in their salon interior. We used layered sheets of Sintra to make each of their suspended signs that included Baby's first Haircut Corner, Madtastic Manes, Youniquey Boutiquey, and Build A Bow.
Some of the other cool items that give these stores such a personality include the fun salon station mirror faces. Each salon station has an oval mirror with frosted vinyl facial expressions and an acrylic hairdo cut out mounted to the wall. Kids really have it made here, not to mention each station comes with a TV for watching cartoons while they get their haircut and even video games for the slgihtly older kids!
As you can see interior signage is key to advertising and creating atmosphere just as exterior signage is to bringing in passers by. This location did not only receive focus on their interior signage. They also received a set of exterior illuminated channel letters and a shopping center pylon tenant panel graphics. Shear Madness Franchise was looking for a one stop shop for all of their signage needs. You can see examples of some of their other locations I have worked with such as Shear Madness - Jordan Creek or Shear Madness - Lee's Summit.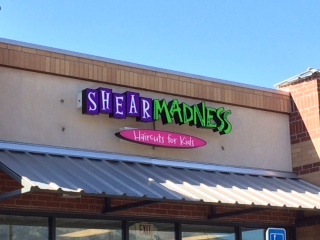 What do you think about this Salon concept? Would you bring your child here? If you would like more info on adding interior signage to your location contact Signdealz today and lets brainstorm!